THE 2023 Holiday Collections Is here.
Pre-Order Gifts For Early December Shipment! Free Shipping (boxes over 100$) and Handwritten Notecards.
RESEVE YOUR NOW
A Fresh Perspective on Gifting
The act of giving and receiving should be meaningful in all the best ways. Sage Theory Gifts provides a one-of-a-kind gifting experience, designed to spark joy and connection in the lives of others.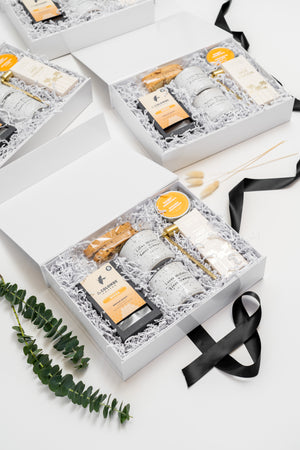 M & M
Meaningful Moments Program
The program utilizes thoughtfully curated, personalized quarterly gifts that are dynamic to the season or themed events. This strategy maximizes essential long-term relations with your clients. Each touch includes a personal branding and a message from you.
Learn More
★★★★★

Sage Theory is a special company and brand. My team has been so impressed with their creative genius, desire to please, unique approach and professionalism. We are so thrilled to have found them! Our clients love their creations and we can't wait to continue working with them. They're on brand with providing a seamless process with high end goodies that put a smile on everyone's face. The people behind the company are super sweet, organized and a pleasure to do business with.

Jill Silverstein

Compass
★★★★★

Sage Theory is simply the best! I am constantly in awe of their level of service, the customization they can provide for my clients' gifts, and how they can ensure that all my clients are thrilled with the gifts I send them (which makes me look good! 😃)! Whether it's celebrating a new home, a bday, a new baby… they are there to customize the gifts as desired. You can tell care and pride go into the curation of each gift. One of the things I love so much about them is that they literally make the gift giving process so easy for me - it's like a snap of the fingers, which is amazing, as we get so busy. They are one step ahead, so the gifts are ready the second I need them! Thank you, Sage Theory!

Karen Schwartz

Dream Town
★★★★★

If you're looking for convenience and a unique gift giving experience as a real estate broker, Sage Theory is the best option. They've made my life so much easier Over the last year. They are able to get custom gifts out in a short amount of time as well as closing gifts. They can customize each basket with local goodies and my clients have loved them so far. Gifting is a great way to stay in touch with clients, especially ones that you don't hear from often. Sage Theory has been easy and professional to work with every time. I would highly recommend.

Lauren Traficanto

Compass
★★★★★

Sage Theory Gifts, Thank you so much for all your hard work. People are LOVING the gifts and you have been a dream to work with! Looking forward to our next project together and I will be sure to recommend you to anyone in need. 10/10 all around!

Dana Griffin

@Properties
★★★★★

Nini and her team with Sage Theory have such an amazing business they are running! Curating local gifts for my clients was always on my todo list but I never seemed to have time to get it all together. Her team takes the guess work and stress out of the lovely idea and always presents the most stunning packages for my clients. I love the personal approach and the behind the scenes great customer service I experience with working with Sage Theory!

Emma LaCosse

Compass
★★★★★

I cannot say enough good things about Nini and Sage Theory Gifts. Not only does she provide amazing options for client gifting, she also offered her fantastic space for hosting our client photo event.
The gifting options are simply outstanding. They offer a wide range of choices, each one thoughtfully curated, and beautifully presented and it's an excellent way to make a lasting impression! She offers many options to gift for your top clients multiple times a year, making it extremely easy.
Being a client of Nini's comes with its perks as well. We recently hosted an amazing client event at her venue, and it was a massive success. The modern, well-designed space comfortably accommodated our group and she even set up the full backdrop for the photos. My clients were thoroughly impressed with everything and I will definitely be getting some referrals from it.
If you're looking for top-notch corporate gifting and an incredible event space, look no further. They've earned every one of these five stars!

Elizabeth Lothamer

@Properties
★★★★★

Working with Nini at Sage Theory Gifts has been a wonderful experience. She's highly organized and hand-selects quality items for her gift boxes. These gifts have been a perfect complement to my referral-centric business model. I highly recommend Sage Theory Gifts for those seeking top-notch, personalized gifting solutions.

I also had the opportunity to use the Sage Theory Storefront as a studio space for a client photo shoot event, and it was a fantastic experience. Nini's creativity and attention to detail shone through as she created a stunning backdrop for the photos. Not only did she provide a beautiful setting, but she also generously opened her space for my clients, allowing them to capture their family photos just in time for the holidays. This additional offering highlights Nini's commitment to going above and beyond to make every Realtor experience unique and specia

Christina Breuer McNamee

Compass
★★★★★

I highly recommend Sage Theory Gifts. We utilized them for a large corporate event of 150+ people. Sage Theory provided the event's take away gift and handled all the ordering, customization, artful presentation, and delivery. They were always ahead of schedule on all critical milestones. Sage Theory was easy to work with and very friendly providing great ideas that went above and beyond. We will use them again.

John Tomlinson - Managing Director

Hines
★★★★★

The most beautiful custom gift boxes. Ordered 12 for a work retreat, and Sage Theory Gifts was recommended by the hotel where we were staying. Best recommendation! The gift boxes are put together in the store by hand, and all items are locally sourced. The cherry on top was the custom note placed in an envelope that has a wax seal! Classy all the way! If you are looking to impress, this is your place! Highly recommend.

Josephine Ruggiero

Brown & Brown Absence Services Group